| | Anti-Xmas am 19.Dez ! | |
| --- | --- | --- |
Startseite
xmas á la Al Bundy

'Twas the night before Christmas,
And all through the house,
No food was a-stirrin',
Not even a mouse.


Stockings were hung round
Dad's nick like a tie,
Along with a note that said,
"Presents or die."


Children were plotting
All night in their beds,
While the wife's constant whining
Was splitting his head.


But daddy had money
This year in the bank,
Then they closed up early,
And now dad's in a tank.


All of a sudden,
Santa appeared,
A sneer on his face,
Booze in his beard.


"Santa," I said,
As he laughed merrily,
"You do so much for others,
Do something for me."


"Bundy," he said,
"You only sell shoes,
Your son is a sneak thief,
Your daughter's a floose."


"Ho ho," Santa said,
"Should I mention your wife?
Her hair's like an A-bomb,
Her nails like a knife."


He climbs up the chimney,
That fat piece of dung,
He mooned me two times,
He stuck out his tongue.


I heard him exclaim,
As he broke wind with glee,
"You're married with children,
You'll never be free."


------------------------------------------------------------------------
Die ersten Tage verpasst ? Alles nochmal Online unter http://www.mielsch.de/xmas/index.html
Was war eigentlich im letzten Jahr ? Nun zu finden unter http://www.mielsch.de/xmas/2001/index.html
Weihnachts-Countdown: noch 5 Tage bis X-day.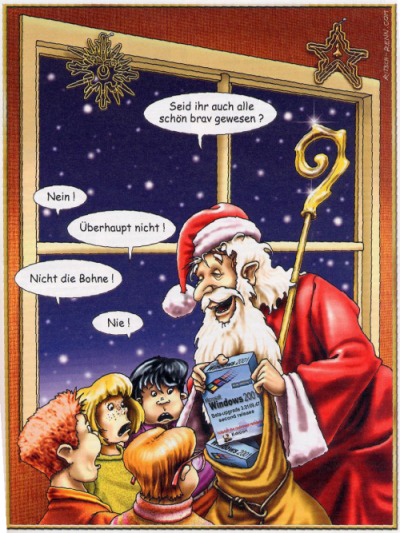 ingo Last modified: Mon Oct 13 21:18:26 CEST 2003